I love shyrdak rugs, even though I haven't met one in real life. They look so warm and tactile.
The rugs are made of wool felt by Kyrgyz women. Lightweight felt suits the lifestyle of these traditionally nomadic people, who have historically resided in yurts - where shyrdaks also decorate the walls. To make the rugs, two layers of contrasting felt are cut with an identical pattern, and the "positive space" of one color is used to fill the negative space of another, resulting in two complete ornamental panels. The panels are then quilted together, often with a contrasting trim at the pattern's edges. Sometimes they're backed by another layer of felt.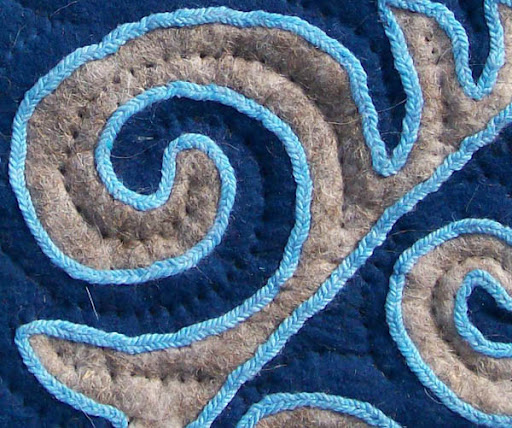 Different color combinations signify certain things - red and white is fertility, for instance - and motifs are derived from real life - a mother and child here, a ram's horn or a soldier there. These symbols manifest abstractly as gracefully curved flourishes or sharp trapezoids.
I would love to endeavor to make one of these myself. Normally, I would. But I'm broke, and I've gotten better about going through the cost-benefit analysis of a new project. These rugs are made from three sheets of felt - two decorative layers, and a backing layer. You could use
1/8" F-10 felt
for the backing layer, which sells for a reasonable $16.50 per linear foot (standard width is 72"). For your top layers, you might buy
merino wool felt
in a great variety of colors, for $81.34 per yard. For the 6' x 9' dream rug I've imagined for myself, I've just spent $636.54 plus shipping and tax.
I have no doubt, though, that it would be a really fun project, one I'd like to have a go at someday.
A better method might be to patronize the skilled artisans who can benefit from the sale of these rugs in Kyrgyzstan.
Altyn Kol
is a women's cooperative whose members craft these rugs from raw wool and sells them for amazingly reasonable prices - about $56 for a 5' x 5' rug. Shipping costs are $7.50 per square meter, plus a $30 tax by the Kyrgyz government.
Perhaps when I'm no longer a student and have a little disposable income, Jessica will split the tariff with me, and we can treat our respective floors to one of these beautiful felt rugs.